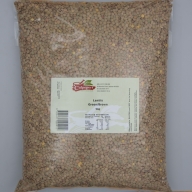 Lentils - Green / Brown 1kg
It's a type of pulse. Comes in Green/Brown, Red and or Yellow and it comes in various sizes.
Code:
LENTLAIRD1
Quantity:
Good Supply
Availability:
Always Available
Usage
Soak for about 40 minutes at 4 degree C, drain and refresh the water. Cook on a low heat for about 45 minutes. Great to eat as it is, but good to mix in with cooked rice. Used in soups, stews or with pastas.
Medicinal Powers
High in Protein, Fibre and Iron.
Can possibly improve immunity, digestion and weight loss.
Fun Facts
Lentils have been used in cooking for over 13,000 years. It is a traditional dish in some European countries and is eaten on New Years Day to invite prosperity. Know as "Money Beans" Canada is the worlds largest exporter of Lentils.
Green and red lentils are the predominant lentil types grown, consumed and traded in the world.
Country of Origin!
Culpepers' Green/Brown Lentils come from Canada!