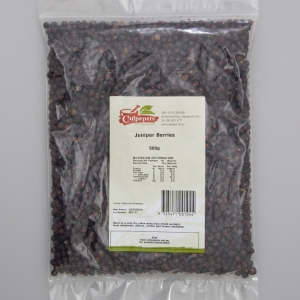 Juniper Berries 500g
Juniper Berries come from a seed cone of a species of conifer tree. The cone is berry shaped hence the name. Freshly crush the berry and then finely chop it before adding to the pot.

Code:
JUN500
Quantity:
Good Supply
Availability:
Always Available
Usage.
Often used to flavour game meat, some soups and casseroles. They also season pork, cabbage and sauerkraut dishes.
It has a pine-like flavour which is spicy and refreshing. It blends well with others spices and herbs like paprika, oregano, sage, rosemary, marjoram or thyme.
Medicinal Powers?
Thought to be an appetite stimulant and a remedy for rheumatism and arthritis.
During the plague, Londoners would burn juniper woods to ward off infection.
Pregnant women and people with kidney disease are advised to avoid consuming it in large quantities.
Fun Facts.
Juniper berries are the only spice derived from Conifers.
Use to give the drink "Gin" its distinctive flavour.
The Juniper bush was made famous by Monty Python in the "Life of Brian" movie when Brian offered it as a food source to his would-be followers.
In the old days, Juniper berries were used as a substitute for pepper and coffee!
Because of its air-cleansing piney aroma, the Swiss burned the berries with heating fuel to sanitize stale classrooms.
Country of Origin!
Culpepers' Juniper berries come from Albania!