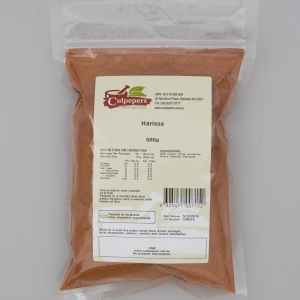 Harrissa Seasoning 500g
It is a blend of hot North African spices.
Code:
HARISSA500
Quantity:
Good Supply
Availability:
Always Available
Usage
Add to meat and chicken to give a chilli hot North African flavour to your cooking.
Medicinal powers?
Subject to the individual ingredients.
The hotter the blend to more effective in clearing sinus congestion.
Fun Facts
It is very popular in all North African countries with numerous regional variations.
Oddly enough, the blend owes its heat from south American chillies. The early Spanish fleets transported chilli plants for cultivation in southern Europe and then onto north Africa.