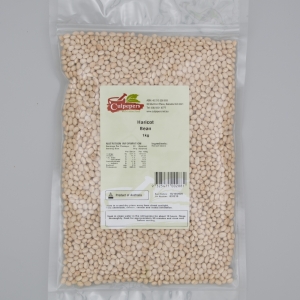 Haricot Beans 1kg
A dried bean also known as Navy Beans.
Code:
HARIC1
Quantity:
Good Supply
Availability:
Always Available
Usage
Soak in fresh water for about 10 hours at 4 degree C drain and rinse well. Cook for about 90 minutes, rinse well. Great in Soups, Salads, Stews and Pies.
Cumin, cayenne, chili, parsley, pepper, sage, garlic, bay leaf and thyme all go well with cooked beans.
Medicinal Powers?
Consumption of beans has been shown to lower total Cholesterol Levels and has been found to inhibit cancer cell growth. It can also help to decrease the risks of heart attacks.
Good source of protein, vitamins and minerals such as copper, magnesium or iron. They give energy and helps with antioxidant defense.
Fun Facts
The bean used in "Baked Beans".
Beans were spread throughout South and Central America by migrating Indian traders.
Country of origin!
Culpepers' Haricot Beans come from either Australia or the USA.