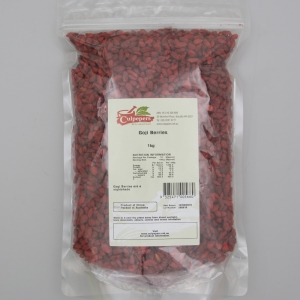 Goji Berries 1kg
The Goji berry is also known as a wolfberry. It is a bright orange red berry that comes from a shrub.
Code:
GOJI1
Quantity:
Good Supply
Availability:
Always Available
Usage
Goji berries are used in the same way you'd add raisins to a dish. They work in both savoury and sweet foods.
They are popular in baking and added to breakfast cereals.
They are blended into trail mixes and are eaten as a snack.
Infuse them in your tea for about 3 minutes for a refreshing beverage.
Medicinal powers?
They do have an ancient use in treating a variety of medical conditions and many believed that it would increase life spans.
They may improve eyesight.
If you take blood thinners or blood pressure medication you may like to discuss Goji berries with your doctor or pharmacist.
Fun Facts
When you wash Goji Berries the fruit that floats are the freshest.
Country of origin.
Culpepers Goji Berries come from China