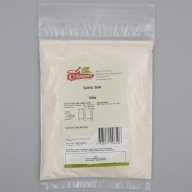 Garlic Salt 1kg
Garlic Powder combined with Salt.
Code:
GARS1
Quantity:
Good Supply
Availability:
Always Available
Usage.
Used to add a combined garlic and salt taste to a savoury dishes.
Medicinal Powers?
See garlic and see salt. (or see sea salt)
Garlic was used at home as a cure or as an antidote against poisons, stings and bites.
Fun Facts.
Culpepers urges responsible consumption of garlic and salt.
Country of Origin!
Culpepers Garlic powder comes from China and is blended with Australian salt!