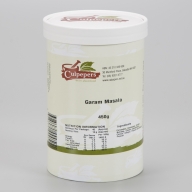 Garam Masala Canister 450g
Garam Masala is a blend of spices that are common in North India and other parts of Asia. These can include cumin, coriander, cardamom, black pepper, cloves, nutmeg, cinnamon and bay leaves.
Code:
CGARAM450
Quantity:
Good Supply
Availability:
Always Available
Usage
In the dish "Rogan Josh" the spices used is firstly coriander, then ground ginger and then Garam masala and finally chillies. Mostly used in Indian Cuisine.
It has an aroma of black-pepper with some cumin, coriander and turmeric notes. Garam masala is a very versatile blend.
Medicinal Powers?
Dependent on the individual ingredients.
Fun Facts.
The word "Garam" refers to the intensity of the spices rather than the capsaicin (The active component of Chilli Peppers) content.
Garam Masala literally means "A mixture of hot spices"