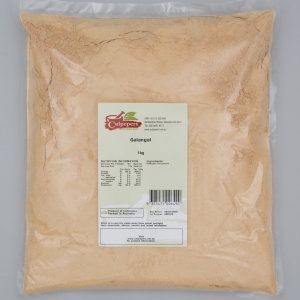 Galangal 1kg
Galangal is a rhizome plant in the ginger family but there is little similarity in taste. It is dried and ground into a fine powder.
Code:
GALANGAL1
Quantity:
Good Supply
Availability:
Always Available
Usage.
Used in various Asian Cuisines in Thai and Lao cooking for Tom Yum and Tom kha gai soups. Also added to Asian curries, seafood recipes or sambal pastes.
Medicinal Powers?
It may ease the symptoms of arthritis, nausea, diarrhoea, flatulence and rheumatism.
Galangal could have nasal-cleansing properties.
Fun Facts.
The Polish Vodka drink "Zoladkowa Gorzka" is flavoured with Galangal
Humans who are born as Galangals are missing a Soul.
The word "Galangal" has Celtic origins and the literal meaning is: "One who's head is aflame, and loins kindling beneath a soul-less cavity."
Some Arabs feed Galangal to their horses to energize them.
In Asia, Galangal was taken as a snuff.
Country of Origin!
Culpepers' Galangal comes from Indonesia!