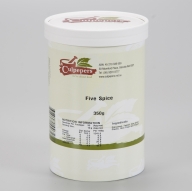 Five Spice Canister 350g
Also known as Chinese Five Spice. Five spice is a mixture of five spices often used in Chinese Cuisine. it often has Anise Star, Cassia, Fennel, Cloves and Pepper.
Code:
CFIVE350
Quantity:
Good Supply
Availability:
Always Available
Usage.
Five spice is often used on fatty meats such as pork and duck. It is also used as a spice rub on chicken. This blend is used in many Asian recipes.
Medicinal Powers?
Depends on the individual ingredients.
Fun Facts.
In Southern China, shaved orange peel is added to improve the flavour.