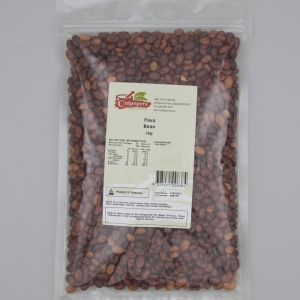 Fava Beans 1kg
Also known as Broad Beans and is actually part of the pea family.
Code:
FAVA1
Quantity:
Good Supply
Availability:
Always Available
Usage
Soak for about 8 hours at 4C. Rinse well and then bring to boil and simmer for 10 minutes. Drain gently or they'll mush.
Tip - Remove the skins before cooking.
Medicinal Powers?
May give you energy, increase your dietary fibre intake and may help reduce hypertension.
Fun Facts
The scientific name is Vicia Faba and they are part of the Fabaceae Family
Also known as a Horse Bean, Faba Bean and Field Bean.
They originated in North Africa and were the popular bean used in Europe until other types started arriving from South America
Country of origin
Refer to product information sheet.