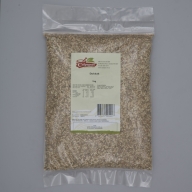 Dukkah 1kg
Originating in Egypt, Dukkah is a unique side dish that consists of herbs, nuts, usually hazelnut and spices. Also Known as Duqqa and Dukka.
Code:
DUK1
Quantity:
Good Supply
Availability:
Always Available
Usage
It is typically used as a dip with bread and fresh vegetables. It is generally served as a hors d'oeuvre. Can be accompanied with olive oil. Delicious when sprinkled on cheese, over soups or salads. It is also used to flavour mutton and mixes well with rice and yogurt.
Medicinal Powers?
Depends on the individual components.
Fun Facts.
Dukkah is originated In North Africa and particularly in Egypt. The ingredient were traditionally, crushed and mixed in a mortar with pestle.
Dukkah has become popular over the past 10 years, probably due to recent Lebanese and Arabic immigration into Australia and it's exposure on local cooking shows.
A hors d'oeuvre is French for "Appetiser" or "A small portion of food served before the entree to whet the appetite"
Dukkah recipes are as varied as muesli recipes.
County of Origin!
Culpepers' Dukkah is blended in Australia from imported ingredients.