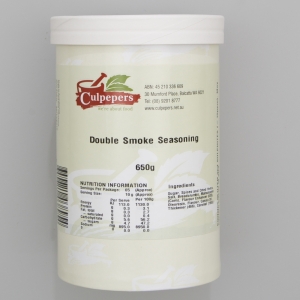 Double Smoked Seasoning Canister 650g
Adds a extra smokey flavouring to foods. The food obtain that outdoor cooking flavour without the fuss of an open fire.
Code:
CDOUBSS650
Quantity:
Good Supply
Availability:
Always Available
Usage
Apply as a meat rub prior to cooking.
Cook longer on a low heat to allow a deeper penetration of the strong smokey flavour to meats.
Medical powers?
None known.
Fun Facts
To be called "Smokin Hot" is regarded as being described as being very sexy. It's generally a term applied to female humans, but you can use it as a way to describe this male writer... if you'd like.
Country of origin
Culpepers' Double smoked seasoning comes from imported products and they are blended in Australia.