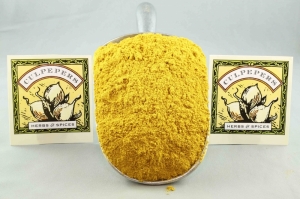 Curry Powder Hot 500g
Curry is a blend of Cardamom, coriander, turmeric, cumin, fenugreek, pepper and other spices. Hot curry powder has added chilli.

Code:
CPHOT500
Quantity:
Good Supply
Availability:
Always Available
Usage
Used to make curry dishes to add heat and flavour. It also has a sweet and pungent aroma. Depending on the blend, it can have many different tastes. Also used on bread products and to flavour cheese. Can be mixed with many other spices.
Can be used with many meats. Usually, beef will require a stronger flavoured blend, than fish or chicken. Also added to mayonnaise and soups.
Medicinal Powers?
Due to the individual ingredients it's dependent on the blend.
A hot curry will make you sweat. Use it to fight a cold and clear sinuses!
Fun Facts
Curry powders are traditionally from India, it refers to the word "masala" which means "mix".
The word "Curry" is an English invention. There is a Curry plant which has leaves that are suitable for cooking the same as bay leaves. Oddly, you don't need them to make a curry powder.
Country of Origin!
Culpepers' Curry Powder is blended in Australia from Imported Ingredients!