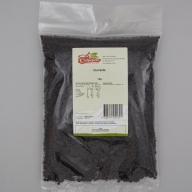 Currants 1kg
Currants are in fact small raisins. They are the dried berry of "Black Corinth" grape and are quite sweet.
Code:
CURR1
Quantity:
Good Supply
Availability:
Always Available
Usage
Currants are often used in scones, cookies, currant buns, Christmas cakes, Christmas Pudding and fruit mince. Can also be added to ice creams, yogurts or cereals.
Medicinal Powers?
Currants are a great source of Vitamin C.
Despite their sugar content, Currants are not fattening.
Currants are a good diuretic and may improve blood circulation.
Fun Facts
Currant, was also the name of the currency for an online game "Glitch.
Don't confuse currents with currants. The first gives you power, the second gives you energy.
Currants are one of the oldest known raisins. The first record of it was in 75 CE by Pliny the Elder who was a Roman author but also a naval and army commander.
Country of Origin!
Culpepers' Currants come from Greece!