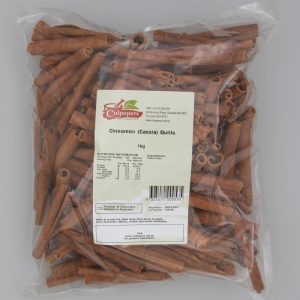 Cinnamon Quills (Cassia) 1kg
The good quality, dried and rolled bark of the Cassia tree. These are Cassia sticks and are a common substitution in the food industry as they have more flavour and are substantially cheaper.
Code:
CINQ1
Quantity:
Good Supply
Availability:
Always Available
Usage
Store whole to grind fresh as required. Cassia is mostly used in desserts and beverages but can be added to any dish.
Medicinal Powers?
None found.
Fun Facts.
Also known as Bastard Cinnamon and has a stronger flavour profile to true Cinnamon. It comes from good quality, dried and rolled bark of the Cassia tree, Cinnamonum burmanii.
The Cassia is related to Cinnamon and harvested the same way.
Country of Origin!
Culpepers' Cinnamon sticks comes from Indonesia or China!