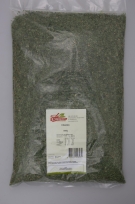 Cilantro (Coriander leaves) 1kg
The leaves are also referred to as "coriander leaves" as they come from the coriander plant. Cilantro is the Spanish word for coriander.
Code:
CILANTRO1
Quantity:
Good Supply
Availability:
Always Available
Usage
Used in Chutneys, in Asian and Indian salads, salsas, guacamole and as a garnish. It is preferable to add the cilantro to the dish in the last 5 minutes of cooking.
It has a clean and lemony flavour.
Medicinal Powers?
Chemicals derived from Coriander leaves were found to have antibacterial properties against Salmonella Enterica.
Fun Facts
Fresh leaves have a soapy taste!
Cilantro was one of the first introduced plants into the Northern Americas by English settlers.
10% of Westerners do not like the flavour of coriander leaves.
Coriander plants contain organic compound which are also found in insects.
Cilantro was a favourite herb amongst Greeks, Hebrews and Romans of Antiquity.
Country of Origin!
Culpepers' Cilantro comes from Israel!