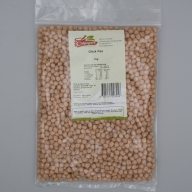 Chick Peas 1kg
Is a type of pulse. We have the Kabuli which is light brown colour and a smooth texture.
Culpepers'
Code:
CHICK1
Quantity:
Good Supply
Availability:
Always Available
Usage
Soak for 10 hours at 4 degree C drain well and rinse in fresh water. Cook for approximately 90 minutes. When cooked, they make great salads and they can be added to stews. Processed Chick Peas are crushed when hot to make "Hummus". They are used in Egyptian, Syrian and Israeli dishes.
Medicinal Powers?
Great source of Zinc, Foliate and Protein. May help in lowering Cholesterol.
Chick Peas can help to decrease appetite and so to help weight loss. May aid to boost the digestion, and to keep a blood sugar level stable.
Fun Facts
They have been on the menu for over 9,000 years. Nicholas Culpeper noted that "Chick Peas" were less windy than other peas.
Ground chick pea has been used as a substitute for coffee since the 18th century and are still commonly used as a caffeine free alternative.
Country of Origin!
Our Chick Peas come from Australia.