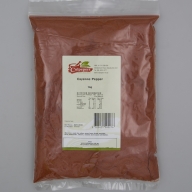 Cayenne Pepper 1kg
A pepper that is related to capsicum. It is very similar to Espelette Pepper and often used as a substitute.
Code:
CAY1
Quantity:
Good Supply
Availability:
Always Available
Usage
Mostly used to make foods hotter to the taste. Often used in Salsa and Curry,
It is the main ingredient in Tabasco sauce.
The flavour of carrot soup is enhanced with a dash of Cayenne Pepper.
Medicinal Powers?
Relieves indigestion and clears the sinuses.
Fun Facts
Named after the French Guiana capital and has been used by South American Indians for over 5000 years.
Cayenne pepper and Espelette pepper are very similar. The Espelette chilli is grown in the Espelette region in northern France by the Basque's.
Culpepers advises the responsible serving of peppers and chillies.
Country of Origin!
Culpepers' Cayenne Pepper comes from India!