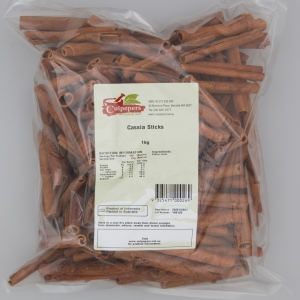 Cassia Sticks 1kg
Cassia sticks come from the bark of the Cassia tree. The process is very similar to Cinnamon however Cinnamon has many layers rolled into one another, cassia is just one thick layer.
Code:
CASST1
Quantity:
Good Supply
Availability:
Always Available
Usage
Freshly ground, it is used in pastries, cakes and enhances the flavour in fruit and chocolate dishes. Often used in curry and sometimes used on a coffee.
Medicinal Powers?
Nil Found
Fun Facts
Also known as "Bastard Cinnamon". It has a much strong aroma than cinnamon even if they both mix up because of their appearance. Both of them are said to be among the oldest of spices.
In Khe Dhu, in North Vietnam, people gather up large dry cassia leaves and put them into their shoes so it can fight the smelly odors from the feet.
Country of Origin!
Refer to product information sheet.