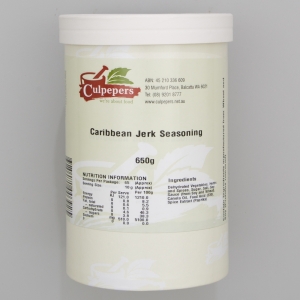 Caribbean Jerk Seasoning Canister 650g
This blend has African origins. To Jerk the meat means to poke holes into it in order to achieve a greater infuson of the spices prior to cooking.
Code:
CCARIBJSEA650
Quantity:
Good Supply
Availability:
Always Available
Usage
This seasoning can also be applied as a meat rub. It is rich in pimento spice, ginger, garlic and cinnamon.
Fun Facts
To Jerk the meat means to poke holes into the meat in order to push in the spice to achieve a greater infusion of the spices prior to cooking.
Jamaican me hungry.
Country of origin
Culpepers Jerk Seasoning comes from imported ingredients and is blended in Australia.
Medicinal Powers?
Refer to product information sheet.