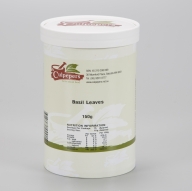 Basil Leaves Canister 150g
Basil Leaves in a canister. Basil is a versatile and very popular herb that goes with most meat, and cooked vegetable ingredients. It is a herb that originated in India. It's Latin name is "Ocymum Basilicum" pronounced "Okay Mum, Basil Come".
Code:
CBAS150
Quantity:
Good Supply
Availability:
Always Available
Usage
Commonly used in Italian Cuisine in soups, casseroles, pasta sauce and pesto.
Basil also goes well with beef, chicken, seafood, lamb and in salads.
Fresh basil is popular in salads.
Medicinal Powers?
It is carminative and aromatic.
Basil is high in beta-carotene, vitamin C, iron and calcium. May relieve indigestion, flatulence and nausea.
It may also ease stomach ache. It is most effective as an infusion.
The aroma of basil may induce a bad temper?
Fun Facts
Basil is native to Asia, and its origins go back 3000 years. It was considered a sacred herb and still is.
It was introduced into Europe by the returning armies of Alexander the Great.
In parts of India, Basil is regarded as sacred and is associated with the goddess TULASI and is the symbol of love, purity and protection. In Romania, if a young man accepted a sprig of basil from a lady, he was considered engaged to her.
An Italian suitor can proclaim serious intentions by wearing a sprig of Basil in his hair. Same when a girl left a pot of basil in her window, signaling to her lover that he was welcome.
Camphor is an essential oil found in Basil.
Country of Origin!
Culpepers' Basil Leaves come from Egypt or Turkey!