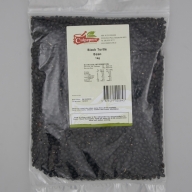 Black Turtle Beans 1kg
Also known as Black Bean. This is a naturally shiny bean.
Code:
BTB1
Quantity:
Good Supply
Availability:
Always Available
Usage
Soak for about 10 hours at 4 degree C in fresh water then drain and rinse. Cook for approximately 60 to 90 minutes. Black Turtle Beans are popular in Latin American cuisine, such as Mexican, Cuban or Creole cuisines. It is used in Mexican burritos and tacos but also in some breakfast dish such as "Gallo pinto" of Costa Rica which is composed of fried Black Turtle Beans and rice.
It has a sweet taste and a mushroom-like flavour.
Medicinal Powers?
High in fibre which helps the digestion. Also source of protein, minerals and vitamins, magnesium and iron.
Could improve cardiovascular health and aid with cholesterol or decrease some inflammation.
Fun Facts
Black Turtle Bean varieties include: Black Magic, Blackhawk, Domino, Nighthawk, Valentine and Zorro!
The Beans are possibly the first kind of legume being domesticated. It was consumed for the first time approximately 7000 years ago in Mexico and in South America. Indeed it was found in excavations of prehistoric dwellings.
They are part of the kidney bean family, which is composed of about 500 different varieties!
Country of origin!
Black Turtle Beans come from the USA and Canada!