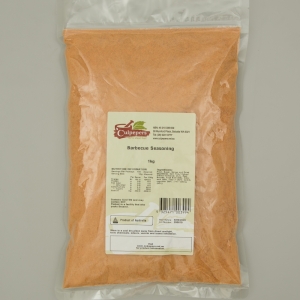 Barbecue Seasoning 1kg
A blend of garlic, salt, paprika and other spices to add a savoury barbecue flavour to food.
Code:
BBQSEAS1
Quantity:
Good Supply
Availability:
Always Available
Usage
A combination of pepper, garlic, paprika, salt and other spices. It is primarily used as a meat rub to add a savoury tangy flavour to food and it is applied prior to cooking.
Medical Benefits?
None Known.
Fun Facts.
Savoury is also known as Umami and is one of the 5 basic taste sensations that we can identify. The others include salty, sweet, sour and bitter.
Umami is a loanword from the Japanese language meaning a "pleasant savoury taste".
Country of Origin.
Culpepers Barbecue Seasoning is blended in Australia from imported and local ingredients.