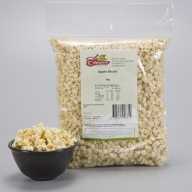 Apples Diced 1kg
From dried Fuji Apples. The apple rings are further diced into chunks ranging from 6 mm to 9.5 mm.
Code:
APPDICE1
Quantity:
Good Supply
Availability:
Always Available
Usage
Used in muesli and cereals, cereal bars and in baking. Delicious with savoury dishes such as with pork.
Medicinal Powers?
Fresh Apples are rich in fibre and Vitamin C.
Apples are high in carbon which may help to improve memory and mental alertness.
Fun Facts
The Fuji Apple is a cross two American Apple varieties - "The Red delicious" and "Old Virginia Ralls Genet"
Mount Fuji located on Honshu Island, is the highest mountain in Japan at 3,776.24 m
Fuji apple however were developed in Japan in Fujisaki and the apple is named after the town and not the mountain.
In China the word "apple" is pronounced "ping" which also means peace.
Apple trees take between 4 to 5 years to produce their first fruit. Apples belong to the rose family.
Apples contain Malic Acid which is a chemical used in teeth whitening products and helps to dissolve stains.
Country of Origin!
Culpepers' Apples come from China!